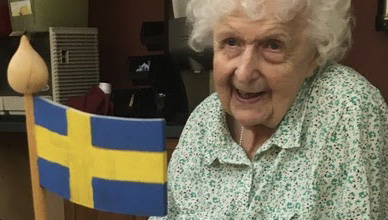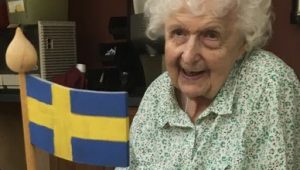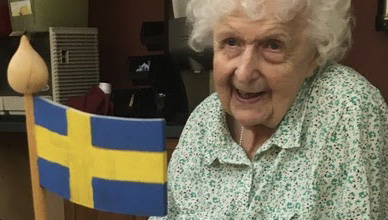 Barbara Linnea Johnson, age 97, of Downers Grove, passed away peacefully on March 21. She was born in Sweden during a snowstorm to Andrew and Valdy Anderson. Barbara and her late husband John were longtime residents of North Riverside, IL.
Barbara is survived by her beloved son, Dennis (Barbara) Johnson of Loveland, CO and former daughter-in-law Conchi Johnson of Hinsdale, IL. Adoring grandmother of Bryan (Michell), Brenda (Jeff), and Bridget (Kevin) Johnson; loving grandmother of Torrey and Ramsey (Cyndi) Thomas; devoted great-grandmother of Abbey, Brandon, Shelby and Wesley Johnson; Stephan, Torrey Lynn, Ryder and Holden Thomas. Barbara is also survived by many extended dear family members and friends.
The family would like to thank the dedicated staff of Oak Trace and Home Helpers Homecare of Downers Grove who cared for Barbara, assisted her with her love of writing and poetry, and her passion for UpWords.
In lieu of flowers, the family requests that donations be made in memory of Barbara Johnson to either of the charities listed below:
Advocate Good Samaritan Hospital, with a notation to benefit the President's Fund. Please send memorial gifts to Advocate Charitable Foundation, 3075 Highland Parkway, Suite 600, Downers Grove, IL 60515 or give online at advocategiving.org. To make a gift by credit card via phone, please call the Annual Fund Department at 630.929.6913.
Lifespace Foundation, with a notation to benefit the Oak Trace Endowed Benevolent Care Fund. Please send memorial gifts to Lifespace Communities, Inc., Home Office, 4201 Corporate Drive West Des Moines, Iowa 50266 or give online at www.lifespacefoundation.com.
A Celebration of Life for Barbara will be held at Oak Trace, 250 Village Drive, Downers Grove on April 29 at 1:00 p.m. Hallowell & James Funeral Home is assisting the family. 630-964-6500.